08-20-01 – CLICKING NOISE WHEN TURNING THE STEERING WHEEL
08-20-01 – CLICKING NOISE WHEN TURNING THE STEERING WHEEL
SI121293
TSB NUMBER: 08-20-01
TSB ISSUE DATE
04/03/2020
BULLETIN NOTES
APPLICABLE MODEL(S)/VINS
2019 Mazda3
DESCRIPTION
Some vehicles with the two-step deployment control air bag module may exhibit a clicking sound when turning the steering wheel. This is caused by the horn spring (1) of the airbag module interfering with the black color tape (2) of the clock spring harness (3), resulting in a stick-slip noise (click on attached sound file below).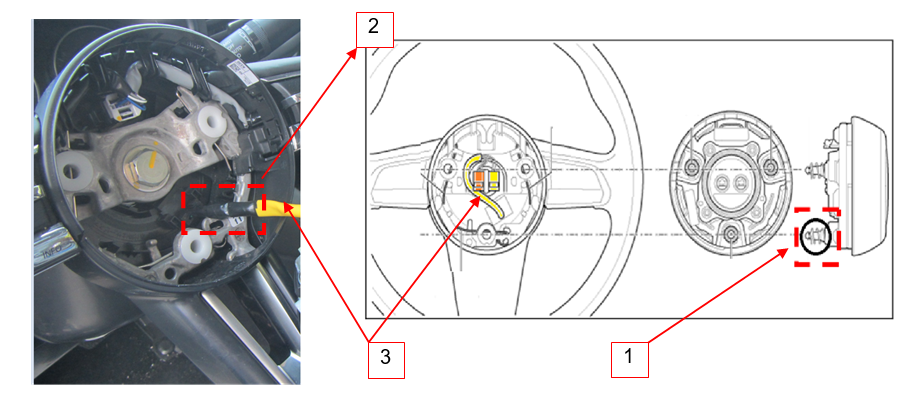 To eliminate this concern, a material change of the harness tape is planned.
Customers having this concern should have their vehicle repaired using the following repair procedure.

REPAIR PROCEDURE
1. Verify the customer concern.
2. Detach the driver side air bag module according to the instructions on MGSS (DRIVER-SIDE AIR BAG MODULE INSTALLATION [TWO-STEP DEPLOYMENT CONTROL SYSTEM – US/CANADA SPEC.])
NOTE: DO NOT route the air bag harness between the air bag connectors. Route the harness outside of the connecters as detailed by the red arrow.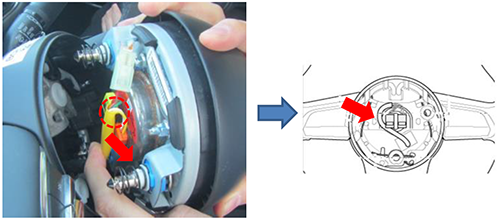 6. Verify repair.

Part Number
Description
Qty.
Note
TA01-76-100
Noise Part Kit
1
Use the thinnest tape.
4 vehicles can be repaired with one part kit.
NOTE:
This warranty information applies only to verified customer complaints on vehicles eligible for warranty repair.
This repair will be covered under Mazda's New Vehicle Limited Warranty term.
Additional diagnostic time cannot be claimed for this repair.
Warranty Type
0
Symptom Code
82
Damage Code
97
Part Number Main Cause

****-66-CS0

(Select the part number of clock spring applicable to the subject vehicle from the EPC3 and enter it.)

Quantity
0
Operation Number / Labor Hours:
XXR61ARX / 0.2 Hrs.
NOTE: Claim part number 5555-NR-K04 as related part for reimbursement of 1/4 of Noise Part Kit (TA01-76-100).