HEADLIGHT LEVELING ACTUATOR OPERATION CHECK MODE [ADAPTIVE FRONT LIGHTING SYSTEM (AFS) CONTROL MODULE]
< Previous
Next >
2016 – MX-5 – i-ACTIVSENSE
HEADLIGHT LEVELING ACTUATOR OPERATION CHECK MODE [ADAPTIVE FRONT LIGHTING SYSTEM (AFS) CONTROL MODULE]
1. Connect the M-MDS to the DLC-2.
2. Switch the ignition ON (engine off or on).
3. Verify that LED headlight warning light is illuminated for 3 s and then turned off.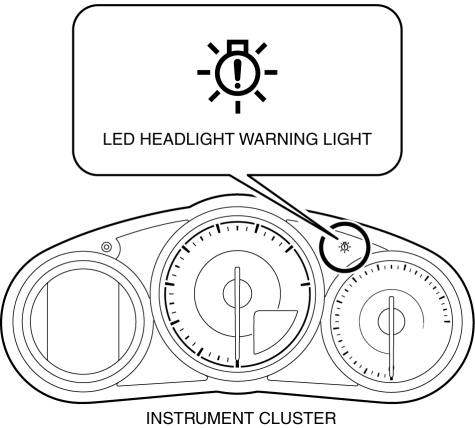 4. Turn on the headlights.
5. After vehicle identification, select in the following order from the M-MDS initial screen.
a. "Electrical"
b. "ExteriorLighting"
c. "Headlamp"
d. "Auto Leveling Sensor"
e. "Auto Leveling Actuator Test"
6. Verify that the headlight optical axis lowers from the current position and returns the original position after 2 s.
© 2014 Mazda North American Operations, U.S.A.