HEATED OXYGEN SENSOR (HO2S) REMOVAL/INSTALLATION [SKYACTIV-G 2.0]
< Previous
Next >
2016 – MX-5 – Engine
HEATED OXYGEN SENSOR (HO2S) REMOVAL/INSTALLATION [SKYACTIV-G 2.0]
WARNING:
A hot engine and exhaust system can cause severe burns. Turn off the engine and wait until they are cool before removing the exhaust system.
CAUTION:
Do not allow flammable objects such as the taping for bundling the wiring harness to come into contact with the exhaust system such as the exhaust manifold and silencer which reach high temperatures. Otherwise, it could cause fire damage.
NOTE:
If penetrant lubricating spray penetrates the airflow hole of the HO2S, it could cause interference with the HO2S function.

When removing the HO2S, wrap a rag around the lower position so that penetrant lubricating spray does not get sprayed into the airflow hole.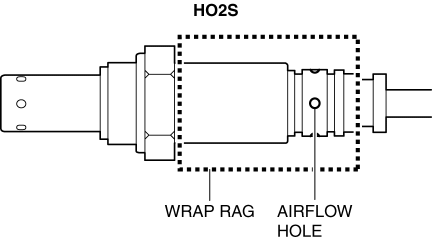 1. Disconnect the negative battery cable. (See NEGATIVE BATTERY CABLE DISCONNECTION/CONNECTION.)
2. Lift up the vehicle.
3. Disconnect the HO2S connector.
4. Disconnect the catalytic converter (TWC) from the exhaust manifold side. (AT) (See EXHAUST SYSTEM REMOVAL/INSTALLATION [SKYACTIV-G 2.0].)
5. Tilt the catalytic converter (TWC) against the tunnel member. (AT)
6. Remove the nut and detach the clip from the catalytic converter.
7. Remove the HO2S using the SST.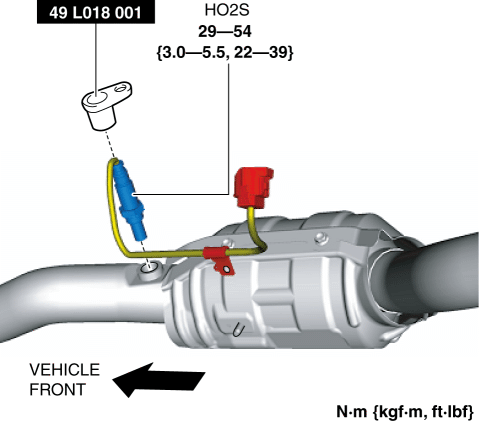 8. Install in the reverse order of removal.
© 2014 Mazda North American Operations, U.S.A.