ELECTRICAL SYSTEM
< Previous
Next >
2016 – MX-5 – General Information
ELECTRICAL SYSTEM
Electrical Parts
Battery cable
Wiring Harness
CAUTION:
Do not remove the wiring harness protective tape. Otherwise, the wires could rub against the body, which could result in water penetration and electrical shorting.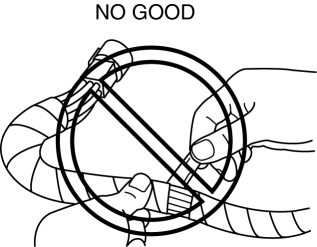 Connectors
Disconnecting connectors
Locking connector
Inspection
CAUTION:
To prevent damage to the terminal, wrap a thin wire around the tester probe before inserting into terminal.
When a tester is used to inspect for continuity or measuring voltage, insert the tester probe from the wiring harness side.
Terminals
Inspection
Replacement
Use the appropriate tools to remove a terminal as shown. When installing a terminal, be sure to insert it until it locks securely.
Sensors, Switches, and Relays
Wiring Harness
Wiring color codes
Two–color wires are indicated by a two–color code symbol.
| | | | |
| --- | --- | --- | --- |
| CODE | COLOR | CODE | COLOR |
| B | Black | O | Orange |
| L | Blue | P | Pink |
| BR | Brown | R | Red |
| DL | Dark Blue | SB | Sky Blue |
| DG | Dark Green | T | Tan |
| GY | Gray | V | Violet |
| G | Green | W | White |
| LB | Light Blue | Y | Yellow |
| LG | Light Green | – | – |
Fuse
Replacement
When replacing a fuse, be sure to replace it with one of the same capacity. If a fuse malfunctions again, the circuit probably has a short and the wiring should be inspected.
Viewing orientation for Connectors
The viewing orientation for connectors is indicated with a symbol.

The figures showing the viewing orientation are the same as those used in Wiring Diagrams.

The viewing orientations are shown in the following three ways.
Part-side connector
Vehicle harness-side connector
Other
When it is necessary to show the terminal side of the vehicle wiring harness-side connectors, such as the following connectors, the viewing orientation is from the terminal side.

Main fuse block and the main fuse block relays

Data link connector

Check connector

Relay box
Electrical Troubleshooting Tools
Jumper wire
CAUTION:
Do not connect a jumper wire from the power source line to a body ground. This may cause burning or other damage to wiring harnesses or electronic components.
Voltmeter
Ohmmeter
CAUTION:
Do not connect the ohmmeter to any circuit where voltage is applied. This will damage the ohmmeter.
Precautions Before Welding
A vehicle has various electrical parts. To protect the parts from excessive current generated when welding, be sure to perform the following procedure.
1. Switch the ignition off (LOCK).
2. Disconnect the battery cables.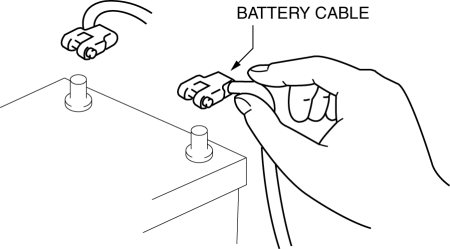 3. Securely connect the welding machine ground near the welding area.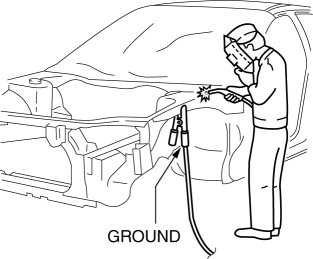 4. Cover the peripheral parts of the welding area to protect them from weld spatter.

Ground Inspection And Disconnection/reconnection
The ground connection is extremely important for normal electrical circuit operation, therefore, inspect and disconnect/reconnect the ground connection according to the following guidelines.

Remove the bolt or screw of the ground to inspect for dirt or rust.

If there is any dirt or rust, clean it.

Securely tighten the bolt or screw to the specified tightening torque.

Verify that parts do not interfere with the ground circuit.
© 2014 Mazda North American Operations, U.S.A.