PRESSURE SENSOR [TWO-STEP DEPLOYMENT CONTROL SYSTEM]
< Previous
Next >
2016 – MX-5 – Restraints
PRESSURE SENSOR [TWO-STEP DEPLOYMENT CONTROL SYSTEM]
Purpose
The pressure sensor detects deformation of a door by a collision to the vehicle side and shortens the time to operate (deploy) the air bag from the collision.
Function
The pressure sensor converts the pressure of the air against the internal part of a door to an electrical signal when the vehicle receives a side impact from a collision.
Construction
The pressure sensor consists of the pressure detection sensor.

The pressure sensor is located inside the center of the door.
Operation
1. If the vehicle receives a side impact and a door deforms, the pressure of the air inside the sealed door is added and air flows into the opening of the pressure sensor.
2. The amount of air flowing into the pressure sensor is detected by the pressure detection sensor and the pressure value at the signal processing circuit is converted to an electrical signal.
3. The pressure sensor sends the converted electrical signal to the SAS control module.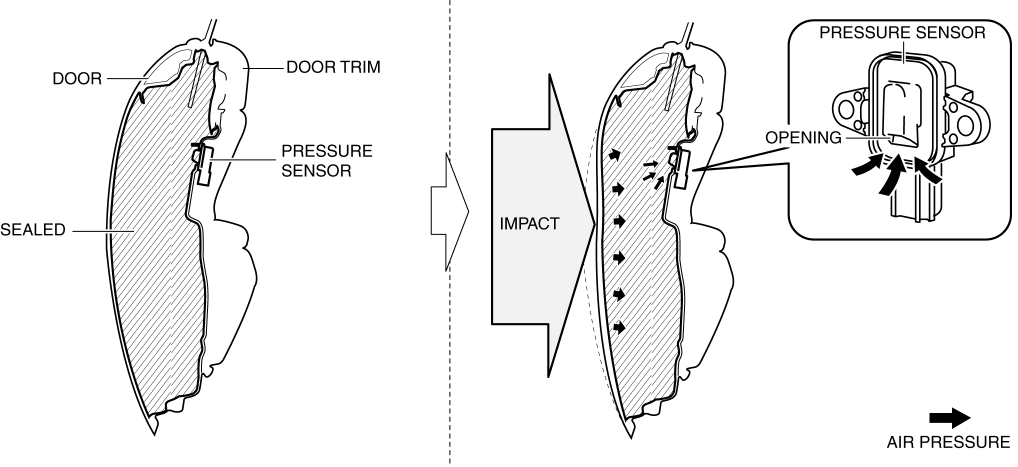 Fail-safe
© 2014 Mazda North American Operations, U.S.A.