CAMSHAFT POSITION (CMP) SENSOR [SKYACTIV-G 2.0]
< Previous
Next >
2016 – MX-5 – Engine
CAMSHAFT POSITION (CMP) SENSOR [SKYACTIV-G 2.0]
Purpose
Detects the camshaft position as basic information for mainly determining the fuel injection timing and ignition timing.
Function
Construction
The intake CMP sensor is located on the cylinder head.

The exhaust CMP sensor is located on the rear housing.
A magnetic resistance element has been adopted for the detection part of the CMP sensor.
Operation
1. The CMP sensor detects (1) the camshaft position.
2. When the camshaft position is detected, it sends (2) to the PCM as a camshaft position signal.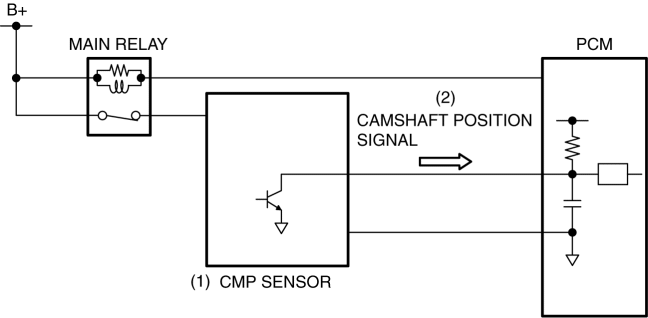 Fail-safe
Intake CMP sensor
| | |
| --- | --- |
| DTC No. | Fail-safe function |
| P0340:00 | Sets the electric variable valve timing control to the maximum cam retard mode. |
Exhaust CMP sensor
DTC No.

Fail-safe function

P0365:00

Stops the fuel injection.

Stops the ignition.
© 2014 Mazda North American Operations, U.S.A.