VARIABLE VALVE TIMING MECHANISM [SKYACTIV-G 2.0]
< Previous
Next >
2016 – MX-5 – Engine
VARIABLE VALVE TIMING MECHANISM [SKYACTIV-G 2.0]
Outline
The variable valve timing mechanism changes the valve timing.

By optimizing the change in the valve timing, the internal EGR amount and effective compression ratio are controlled, pumping loss is reduced, and the combustion is controlled optimally.

With the adoption of the variable valve timing mechanism on both sides of the intake and exhaust, the expansion of the valve overlap and the open/close timing of the intake/exhaust valve have been improved.

A high-response, electric variable valve timing mechanism on the intake side, which is virtually unaffected by engine operation conditions, and a hydraulic-type variable valve timing mechanism on the exhaust side have been adopted.
Structural View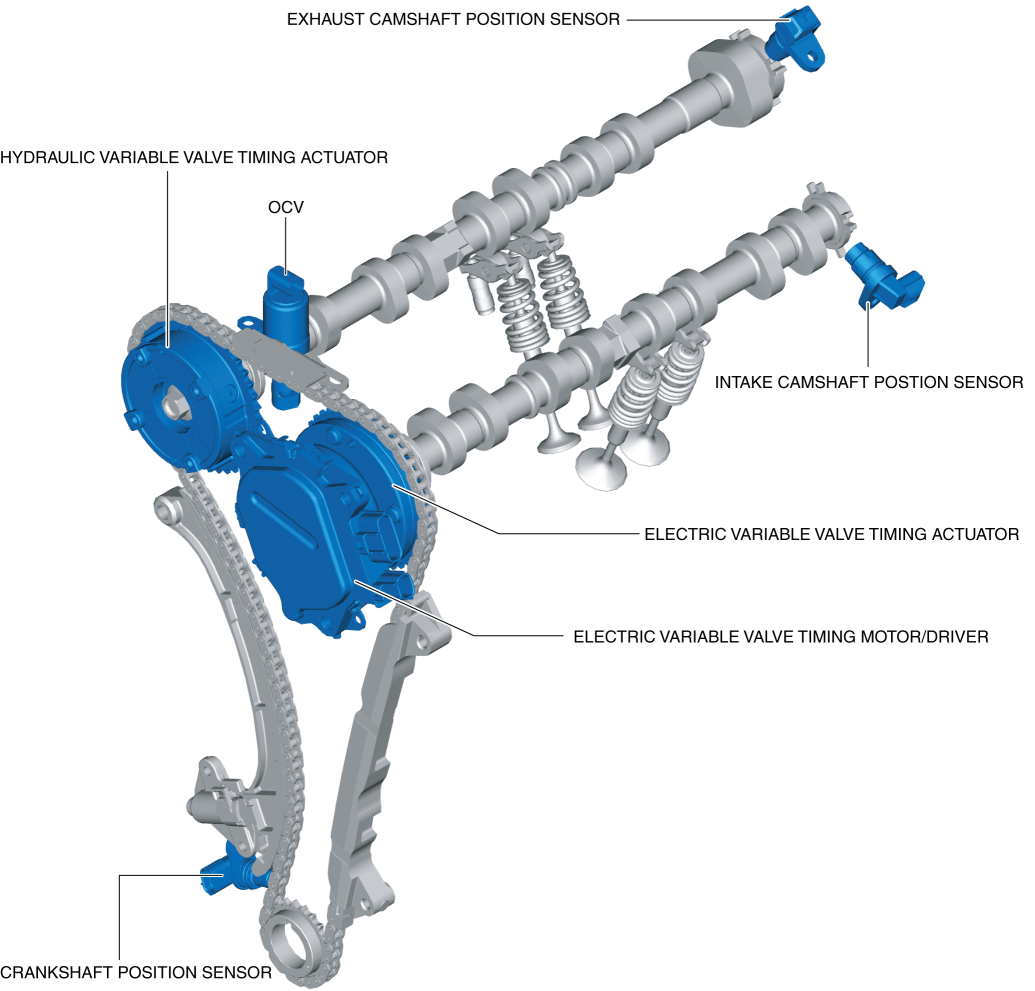 Structure
Operation
At engine start
Engine startability has been improved by utilizing the features of the operable electric VVT even under the engine stop condition and controlling the optimal timing according to engine conditions.
Light/medium load range
Pumping loss* is reduced by properly controlling the timing of intake and exhaust, improving the fuel consumption rate.
*

Energy loss which occurs from each type of resistance corresponding to intake and exhaust is called pumping loss.
High load range
By properly controlling the timing of the intake and exhaust and using the effect of scavenging residual gas in the cylinder and the inertia charging effect, the volumetric efficiency and the output are improved.
*1

Due to optimum valve overlap, exhaust gas from the cylinder is exhausted efficiently and the remaining inactive gas in the cylinder is reduced.

*2

By optimizing the intake manifold diameter and length, intake pulsation occurring in the intake manifold is effectively utilized and intake air effect to the combustion chamber is increased.
© 2014 Mazda North American Operations, U.S.A.